People often ask whether or not now is a good time to buy a home. No one ever asks when is a good time to rent! It is not a secret, and if you have been renting in Austin in the past few years you have first hand experience, the rents are steadily going up!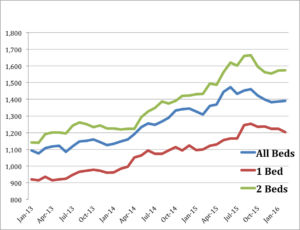 Here is a graph showing Austin area rent increases in the past few years:
A recent Wall Street Journal article reports that rents rose "faster last year than at any time since 2007, a boon for landlords but one that has stoked concerns about housing affordability for renters." The article also cited results from a recent Reis Inc. report indicating that average effective rents rose 4.6% in 2015, the largest gain since before the recession. Over the past 15 years, nationally the rents have risen at a rate of 2.7% annually.
When asked about the reason for not buying, most first time homebuyers often answer "I don't have enough money for a down payment" or "my credit score is not good" amongst other reasons. But like the rest of the "Top 6 Reasons to Not Buy a Home", these can be overcome if there is a desire and a will to go forward.
Where are rents are headed?
If you are thinking that the rents are stabilizing and housing prices are coming down it may be a while before that happens. Jonathan Smoke, Chief Economist at realtor.com recently warned that: "Low rental vacancies and a lack of new rental construction are pushing up rents, and we expect that they'll outpace home price appreciation in the year ahead."  
Bottom Line
Lawrence Yun, NAR's Chief Economist, had this to say in the latest Existing Home Sales Report: "With rents steadily rising and average fixed rates well below 4 percent, qualified first-time buyers should be more active participants than what they are right now."
One way to protect yourself from rising rents is to control your housing expense by buying a home. If you are ready to buy, let us meet to determine if you are able to buy a house in today's market!
As I mentioned in my last months's post, I have summarized the whole process of house buying in a document. You can download or read it here or download it here.
Regardless of how you finance your home purchase, remember that you can take advantage of the City of Austin and Travis County first time homebuyer programs. Even if you are not a first time homebuyers, or didn't qualify in the past, it is worth to take a few minutes of your time and check to see how many programs do you qualify.
Drop me a note here, with your comments or questions, or if want to arrange for a tour of any of the new houses listed in the portal.